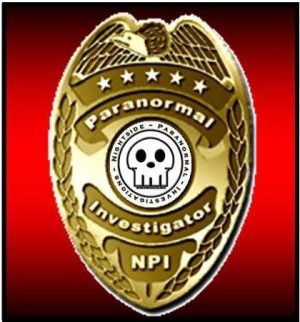 We are a registered Florida Non-profit Organization.
There are a number of "Ghost Hunting" teams that are popping up all over the country. Some are no more than Ghost Tour Operators. Some think they are going to be the next TV stars, and are looking for fame and fortune. Others, like us, take things a lot more seriously.
At Nightside Paranormal Investigations we do this for two reasons. First and foremost, is to help people all over Central Florida and Central Alabama, who are living or working in fear, or just want proof that what they are experiencing is paranormal in nature. Second, we do this for the scientific research and to expand our knowledge of the paranormal world.

We do not consider ourselves Ghost Hunters, we are a group of Experienced Paranormal Investigators that always conduct ourselves in a professional manner.
We utilize scientific methods and state of the art equipment in each investigation to help determine the source of the activity. We go into the investigation with analytical minds and no presupposition as to the nature of the activity. We will first try to determine if there is a logical, non-paranormal reason for the reported activity.
If we do determine that the activity is paranormal in nature, we will assist the client to either better understand and cope with the activity or guide them in ways to resolve the activity. We will always abide by the client's own religious beliefs and guide them towards help within their own belief system if required.
Our integrity and reputation is very important to us and we conduct thorough background checks on all of our investigators.

If you live in the Central Florida region anywhere from the east coast to west coast, or Central Alabama or the surrounding areas, and need a confidential consultation or investigation of your home or property, please fill out the form here.
There are NEVER ANY CHARGES for our services!
We respect and protect our client's privacy and any evidence posted on our website will never identify the client involved. Cases involving children are given our highest priority.
Now Accepting Membership Applications For Our Central Alabama Branch!!!
NPI has expanded to the Central region of Alabama and looking for new members. All positions are open so please click here to apply today!
Follow Us!
Our team is primarily supported by our own members.

Nightside Paranormal Investigations will never solicit our clients for donations.

We feel people only should donate when they feel led to do so. Our team is not here to become rich and famous. We are a part of Nightside Paranormal because we have a true, genuine interest in this field and want to help the people affected by the paranormal every day.

All donations received go directly back into the group. Donations help with the purchase of new group equipment, batteries, film development, cost of maintaining our website, and any travel expenses we incur.
To make a donation click the link below.

At the end of the year any funds left after expenses are donated to charity.

NPI greatly appreciates your kindness and support. Thank You!

Want to join NPI? Click here to see positions we are currently filling.
Copyright 2014, Nightside Paranormal Investigations Inc., All Rights Reserved

Webmaster: info@nightsideparanormal.com